Excavating Contractors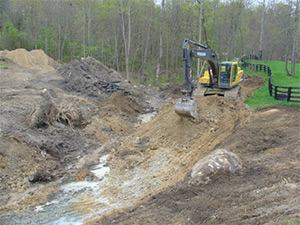 Since 1997, Guins Excavating Service has been providing first-rate excavating contractor services to the people of Zebulon, NC and the surrounding areas, including Wendell, Lizard Lick, Eagle Rock, and Shotwell, NC. Here's a closer look at the services our experienced and highly skilled team is prepared to offer:
Pond excavating: At Guins Excavating Service, our specialty is pond excavating. We handle all stages of these projects, from clearing the land and burning brush to digging the pond, building the dam, installing the overflow system, filling the pond and performing site maintenance. If you need an excavator in Zebulon, NC for new pond construction, there's no better name in town than Guins Excavating Service!
Overflow systems and drains: Equipping your pond with an effective overflow and drainage system is essential for preventing erosion and damage to your pond. This can save you considerable expense and provide peace of mind. Don't let heavy rains wreak havoc on your pond and adjacent property when a well-designed overflow and drainage system can help prevent this.
Erosion control: Are you experiencing erosion problems anywhere on your property? Guins Excavating Service can help! We offer grading services and riprap installation, which means we're able to provide repairs to existing erosion control systems as well as install brand new erosion control systems to prevent problems from recurring.
Residential and commercial projects: As a longtime family-owned and operated local business, Guins Excavating Service understands the importance of serving everyone in the community. This is why, when you need an excavating contractor in Wendell, NC for residential and commercial projects alike, we're here to help you.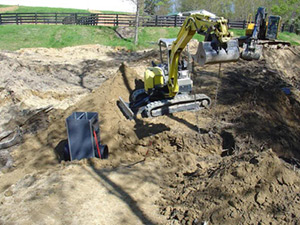 The team at Guins Excavating Service looks forward to helping you enjoy your property to its fullest. When you're in need of a trustworthy, friendly and competitively priced excavating contractor, just contact us at 919-365-9114 to schedule a consultation.